Short term rentals
Benefits for renters
We at Best Solutions Realty we partner with homeowners in leasing their properties We are a San Diego based company that allows business travelers to experience what it is to live like a local. We offer all the amenities of a fine hotel, but in a privately owned property.
Who would be staying in our properties? Out of state business and leisure travelers who are seeking something different so they choose Best Solutions Realty . Our average member earns more than $75,000 annually, is prescreened for identification, and provides a deposit prior to their visit. They are adults, pet free, non-smokers, and typically stay for 1-3 nights.
Benefits for homeowners:
Is there any charge for working with homeowners ? There are no fees, charges or hidden costs whatsoever for allowing Best Solutions Realty to lease your property. We sign a 6 or 12 month lease and provide a deposit, just as any other tenant would.
What are some advantages to working with Best Solutions Realty ? First, we offer free keyless entry so that only property owners have a key to their property. This also ensures that guests have access only for the nights they're booked to stay. Secondly, after every guest, your property is cleaned to the highest standards by a professional cleaning company. Additionally, we can provide references from other happy property owners, a deposit, and first and last month's rent, if needed. Here's a comparison of a typical renter vs working with us: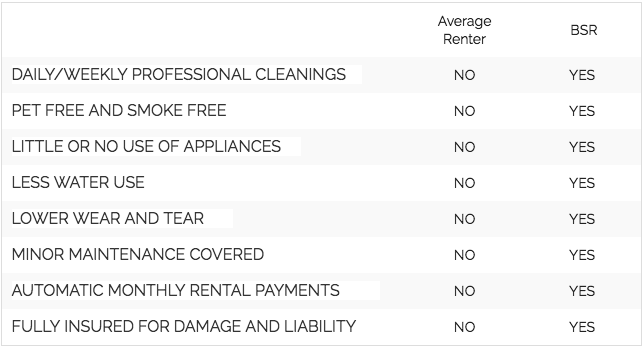 Thanks for considering Best Solutions Realty for your reservations please Contact us at 858-382-1619 or bestsolutionsrealty@yahoo.com.